Cassiopea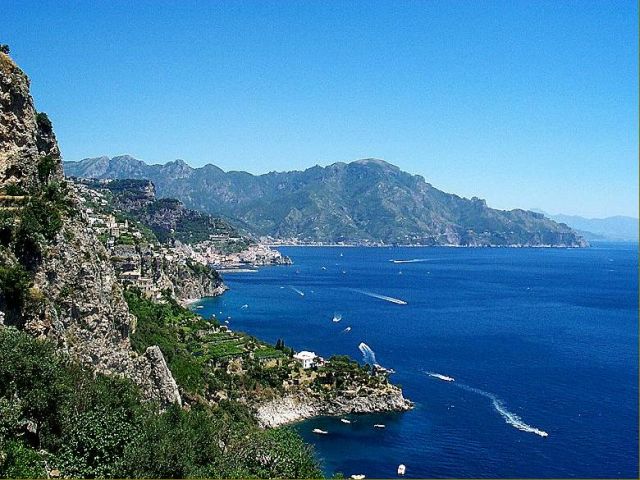 Explore the Amalfi Coast by sea, stopping along the way to swim in limpid waters and beautiful caves. We discover the Furore Gorge, an ancient fishing village patrimony of UNESCO, a stop (on request) at the Emerald Grotto, then on to the famous Natural Arch (Arco Naturale) where you can bathe. Afterwards on to a fresh spring waterfall, next an old paper mill, for another invigorating swim. Enjoy lunch at a typical seaside restaurant where you can sample the delights of the local cuisine, or, if you prefer, bring your own sandwiches to eat on board.
This trip can be made into a full day excursion including a stop in Amalfi (with the possibility to go on to Ravello by bus or taxi). Emerald Grotto entrance ticket not included.








Roberto, Stefano and Diego arrange private personalized excursions, day & night on speed boat and typical local boats to let you discover the "myth, visiting the enchanting places of Capri, the the Amalfi Coast and the the Sorrento Coast , which have fascinated the ancient greeks.

*Honeymooners* Let us take you on a romantic trip in our private boats and discover the beauty of the enchanting and fascinating coast. *Sunset Cruise*, Enjoy a glass of Prosecco (italian champagne) whilst we take you on a romantic sunset cruise along our beautiful Sorrento coast. From Positano jetty we make our way around "LI Galli" Islands and on to the small fishing village of Nerano. We can, if you like, make a stop here either for a drink or for dinner - a chance to savour the delights of our local cuisine at a typical restaurant overlooking the sea. Cost of dinner or additional drinks not included in the excursion price. Alternatively the above cruise can be made along the Amalfi coastline with option for adrink or dinner stop in a local restaurant. * Excursions: to Capri, along the Amalfi Coast, and the Sorrento Coast (Li Galli Islands and Nerano), * Beach-Shuttles: taking you to discover the many beaches reacheable only by sea. * Water-Taxis: fast and comfortable transfers "for or from" Capri, Amalfi, Nerano, Sorrento, all the Hotels & Résidences along the coasts. *Pick-up service from your hotel can be arranged upon request.